TOXAPREVENT MEDI PLUS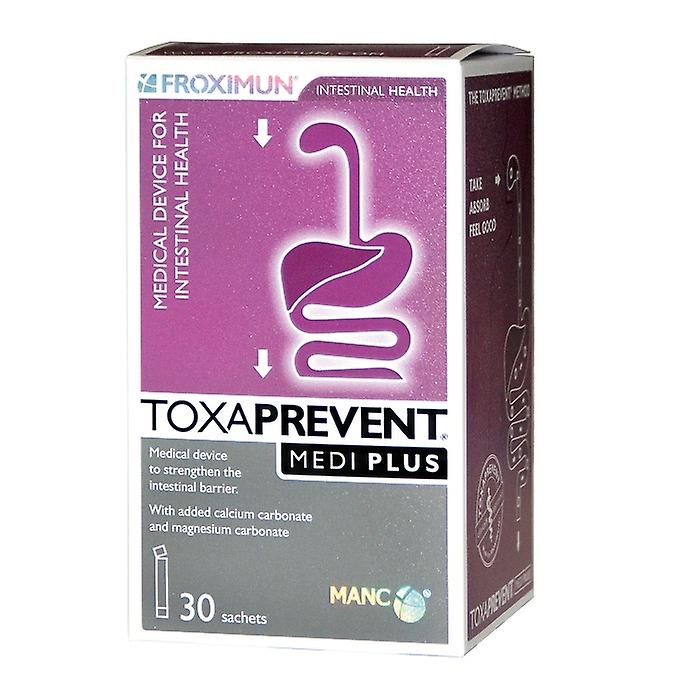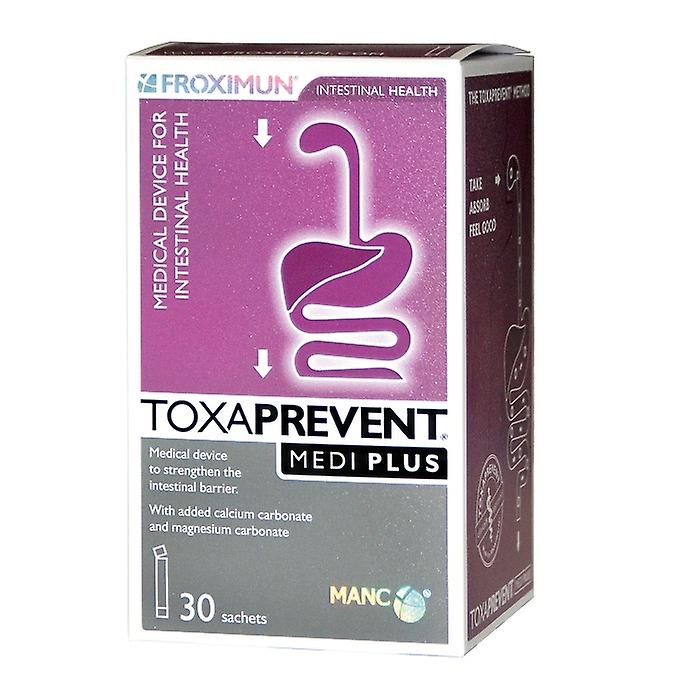 sold out
TOXAPREVENT MEDI PLUS
What are Toxaprevent Medi PLUS Sachets used for?
Strengthen the intestinal barrier
What are Toxaprevent Medi PLUS Sachets?
Toxaprevent Medi PLUS Sachets are used to absorb and remove toxic substances from the digestive system. The active ingredient MANC® (Modified and Activated Natural Clinoptilolite) is a clean form of zeolite which has the ability to absorb Heavy Metals (Lead and Mercury), Histamine and Ammonium.
How does MANC® work?
MANC® particles have "cages" where toxins can be stored using a process called ion exchange. Its negative charge attracts positively charged toxins and selectively absorbs them. The particle size is optimised to ensure Toxaprevent stays only in the digestive tract and is eliminated through natural bowel movements, taking the toxic substances with it as it moves through the system.
Directions:
For daily use. Stir the contents of one sachet into 300ml of water and drink. If necessary, take one more sachet before bed. Leave an hour between taking medication and Toxaprevent.
Ingredients:
MANC® (Modified and Activated Natural Clinoptilolite), calcium carbonate, magnesium carbonate.
Ideal for use in conjunction with Toxaprevent Medi PURE Capsules.
Reviews
Toxaprevent Plus Sachets
5
I have been using the sachets together with the capsules for a week now, and I am having more bowel movements and know this is detoxing my body. I will certainly reorder this product.
Shirley, 2016-05-20 20:57
Success With Fungal Conditions
4
I've been using PLUS and PURE for 3 months - the sachets twice a day. I'm hoping for a beneficial effect on my IBS of forty years. So far nothing, that's why one star is deducted. However, I've had magical results with two other more minor, but long standing, conditions. First is angular cheilitis, at the corners of my mouth. Had the condition for 3 years, and the only treatment was ointment from the GP. It only worked if I used it 5 times a day without fail. I thought I'd have the condition for life. And now this problem has vanished. I attribute this to the PLUS, and I make a point of swirling the liquid round my mouth for maximum benefit. Second is candida of the intestines, which has a particular way of showing symptoms in women. It's similarly difficult to cure. And this condition has disappeared too. Possibly PURE deserves more praise for this, Both these conditions are fungal. At present, I've no idea how Toxaprevent does it, but anyway it's worked for me. Now for the big one, Toxaprevent - what can you do with my IBS?
Songwrighta, 2016-11-04 22:19
Excellent medical device
5
This product helped me eradicate my helicobacter pylori and associated symptoms. Excellent product!
Beth , 2016-12-03 22:23
Effectiveness of TOXAPREVENT sachets.
5
I have used the TOXAPREVENT Pure capsules for a good 2 years now and they have made a huge improvement to my bowel movement and regularity. However, I began to experience acid reflux and bloating and after realising that the TOXAPREVENT PLUS sachets work for the whole digestive system, top down, I added it to my daily regime along with the TOXAPREVENT PURE capsules. Once again, the improvement and relief was so evident from the get-go. One unanticipated benefit was liver relief. A medication I take for Tophaceous Gout really makes my liver sluggish and I always felt underpar. Since taking the sachets and capsules in tandem my energy levels have improved no end. Just delighted with these products.
Valerie Said, 2017-01-09 01:01
Amazing
5
I was told by my doctor that i would be dependant on Nexium tablets for the rest of my life. After using Toxaprevent I no longer take nexium anymore. I have had my liver function tested before & after taking Toxaprevent. The 1st test came in at 136 then the 2nd test came in at 117. My doctor was amazed & advised me to continue to use the product. Simply amazing product
Lexis, 2017-11-12 06:03