NotaSan (Notatum) suppositories- STREP STAPHY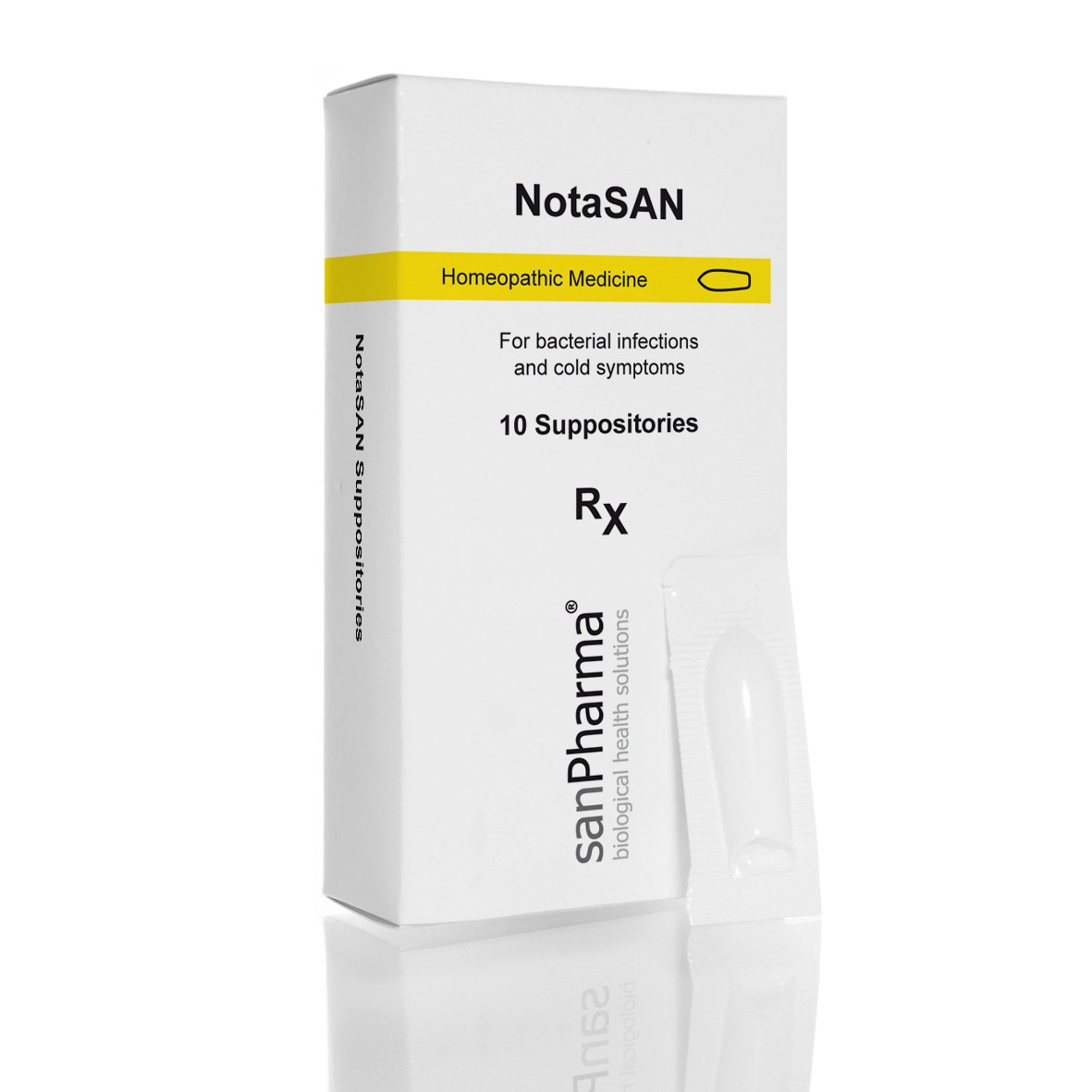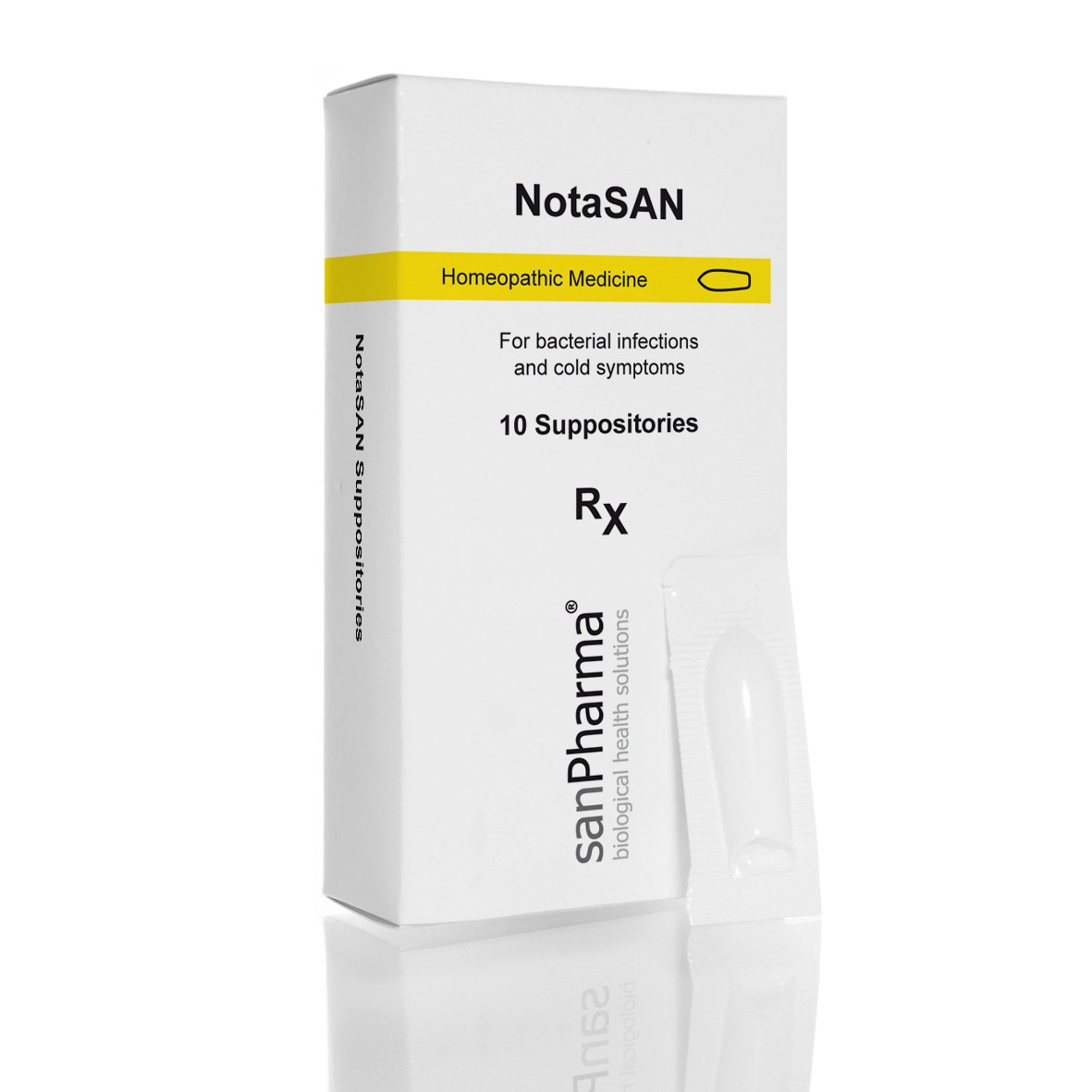 sale
NotaSan (Notatum) suppositories- STREP STAPHY
NotaSan Notatum | SanPharma
Penicillium notatum
For temporary relief of minor cold symptoms, fever, earaches, and respiratory infections.*
INDICATIONS Notatum is effective for treating all types of bacterial infections and inflammations, especially those caused by staphylococci and streptococci. It also helps resolve urological infections, herpes zoster, otitis, tonsillitis, respiratory infections and acne.*

In contrast to Mucor and Aspergillus, Notatum is a nonspecific stimulation therapy. This remedy can be prescribed in high doses to eliminate acute infections. Notatum is also ideal for finding and resolving latent foci. In addition, Notatum does not contain Penicillic acid and is safe for patients who are allergic to Penicillin.*
SanPharma NotaSan
(Penicillium notatum, syn. Chrysogenum)

RECOMMENDED DOSAGE
Drops 4X -- 5-10 drops 3 times per day
Capsules 4X -- 1 capsule 3 times per week
Suppositories 3X -- 1 suppository 3 times per week

SUGGESTED ADDITIONAL THERAPY
Use of a bacterial remedy such as Subtilis, Firmus or Mycobactin S is recommended with Notatum to help modulate the immune response during infections. Notatum also works well when combined with the Penicillium remedies Quentans and Roqueforti to help resolve viral and intestinal problems, and helps fight mycotic infections when used with Candida.
Supplement Facts
(10 ml) 4X drops, (30) 4X Caps, (10) 3X Suppositories
NotaSan /Notatum(Pen.notatum 4X Drops
Active Ingredient: Penicillium notatum (chrysogenum) 4X
Inactive Ingredients: Purified water, sodium chloride, potassium sorbate.
NotaSan /Notatum(Pen.notatum 4X) Capsules
Active Ingredient:255 mg Penicillium Notatum ( chrysogenum) 4X
Inactive Ingredients: lactose and beet oil.
NotaSan /Notatum(Pen.notatum 3X) Suppositories
Active Ingredient: : 0.2 g Penicillium Notatum (chrysogenum) 3X.
Inactive ingredients: hydrogenated palm kernel glycerides, lactose.
*Your results may vary from those listed above.
*These statements have not been evaluated by the Food and Drug Administration.
*This product is not intended to diagnose, treat, cure or prevent any disease.
Since we do not know everything about your medical history and medications, please consult with your health care practitioner before implementing any new protocols and supplements. Do not construe any information listed on this site as a substitute for actual medical advice. The info you receive from us is not intended to replace medical advice by your doctor. Natural ReGenesis does not dispense medical advice, prescribe, or diagnose illness. If you have a medical condition, see your physician of choice.