AMINO ACID QUICK-SORB BY BIOTICS RESERCH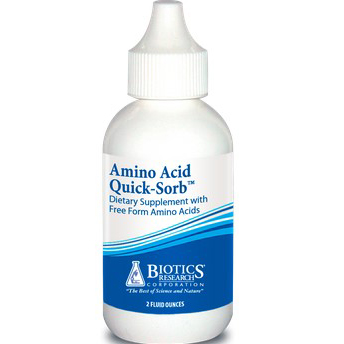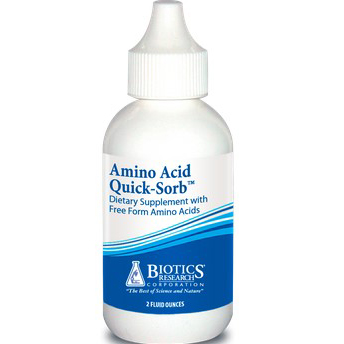 sale
AMINO ACID QUICK-SORB BY BIOTICS RESERCH
Biotics Research Amino Acid Quick Sorb
1 Drop contains:
Amino Acid Quick-Sorb is a liquid supplement supplying nine free form L-amino acids, which provide a stabilizing effect. It may be used to support healthy blood glucose levels that are already within a normal range.
Support Glucose Levels

Supports Blood

Provides 6 essential amino acids for building protein

Is the most effective protein supplement for building muscle and bone

Promotes fast recovery after hard training

Increases energy levels

Supports a healthy immune system. Is a great source of protein during weight-loss – almost 0 calories
Recommended usage: Five (5) drops (approx. 0.16 ml) under the tongue, one (1) to three (3) times each day as a dietary supplement or as otherwise directed by a healthcare professional.
Biotics Research Amino Acid Quick Sorb Facts:
5 drops (approx. 0.16 ml) contains:
Propietary Blend 50 mg
Glycine

L-Alanine HCL

L-Lysine HCL

L-Serine

L-Threonine

L-Valine
Other Ingredients: Ingredients: Purified water, glycerol, glycine, L-Alanine, L-Arginine hydrochloride, citric acid, L-Lysine hydrochloride, L-Proline, L-Histidine hydrochloride, L-Serine, L-Threonine, L-Valine, potassium sorbate and sodium benzoate.
These statements have not been evaluated by the Food and Drug Administration (FDA). These products are not meant to diagnose' treat or cure any disease or medical condition. Please consult your doctor before starting any exercise or nutritional supplement program or before using these or any product during pregnancy or if you have a serious medical condition.

This product is gluten and dairy free.